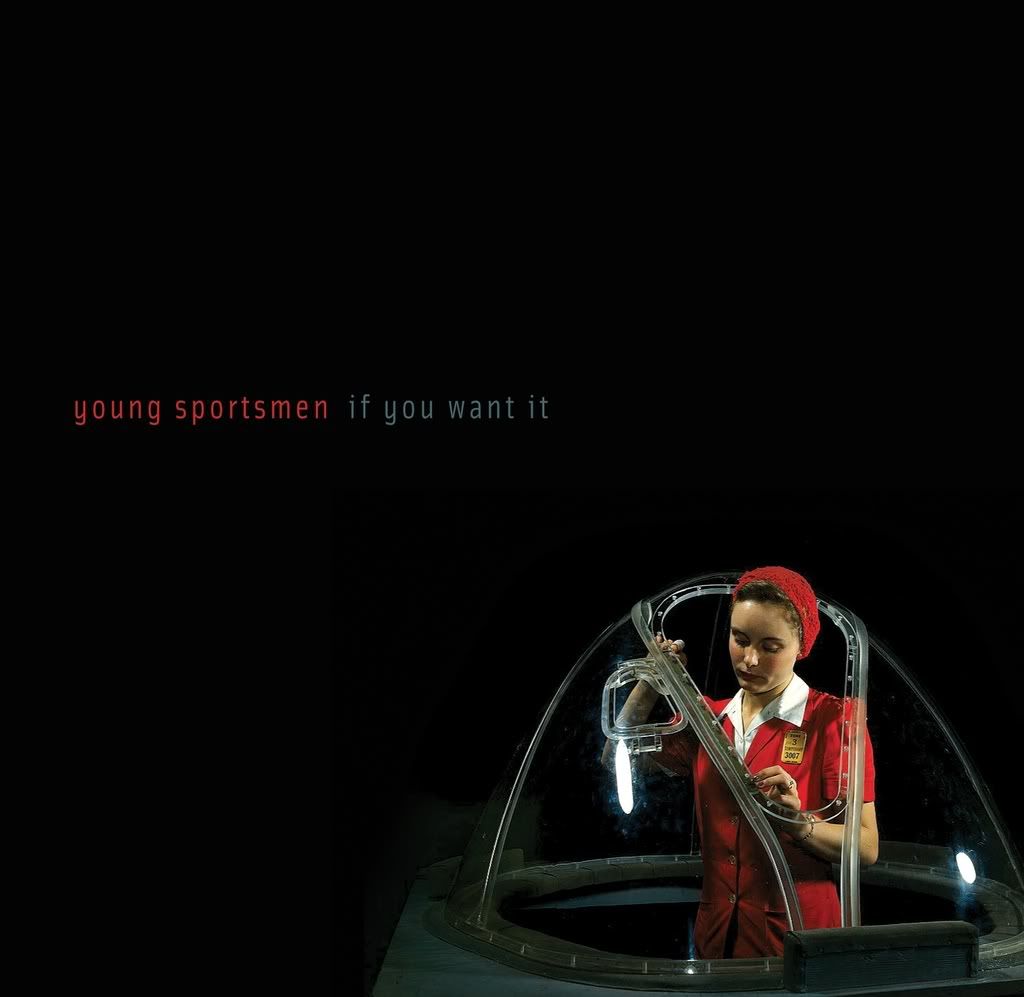 An excellent record from Young Sportsmen, brimming with sharp songwriting, well-crafted arrangements and inspired performances, all superbly captured by producer Johnny Sangster. Like its predecessor, this is immediately appealing power pop with all the requisite energy, volume, hooks, harmonies and melodies the term implies but
If You Want It
also introduces an angular, highly rhythmic component to Young Sportsmen's sound that was only hinted at on
Death to Palaces
and like sweet and tart it's a great combination. This is power pop with an edge and plenty of substance, one of those rare albums that sounds great the first time you play it and only sounds better with each subsequent listen as you begin to absorb its various textures and ideas.
Wesley Nelson's oblique, evocative lyrics leave plenty of room for interpretation but he seems to have a knack for turning out weighty lines that concisely express the tenor of our times, however bleak. On "Tomorrow Disappears" the centerpiece of the album, Nelson sings in his expressive, clarion voice "Everything we have today is resting on the shoulders of a maybe" and anyone other than an eternal optimist will reflect and agree. In "Sesame Street Fightin' Man," a song that cleverly incorporates the riff from the "Sesame Street Theme" and makes it sound driving and urgent, he sings, "Good-luck no longer means a thing/In this town you're on your own" and in "Hey Gasoline" the refrain: "It's true that the fools keep us choking on gasoline" makes an indelible impression. Pretty pessimistic stuff but not entirely devoid of hope, in "The Deadenders" Nelson looks forward to better days "Where truth is evident/And the worker gets a better wage" and its swelling, anthemic chorus "And on this day deadenders win" is as stirring as any Woody Guthrie ever penned. On the final track "Long Way Down" he only just admits the possibility of salvation: "You can throw me a line/But you've got to come a long way down" before the song ends with a cathartic extended instrumental coda.
Don't get the idea that
If You Want It
is a downer though; it's anything but. When I crank it through my stereo speakers I feel elated - the songs have so much momentum and lift. Jeff Roeser's powerhouse drumming is amazing. Richard Davidson's bass lines alternate between anchoring pulses and buoyant melodic flights. The guitars of Ryan Maxwell and Wesley Nelson riff, ring and buzz with power as their vocals soar over the top. Keyboards and percussion provide addition color and texture. Young Sportsmen's myriad influences (The Beatles, The Jam, XTC and The Breeders to name a few) are well assimilated giving the band a fresh, distinctive sound. This is simply an outstanding album so go out and get it and go see Young Sportsmen live if you get the chance – they put on an incredible show.
www.myspace.com/youngsportsmen
www.myspace.com/unsmashablerecords