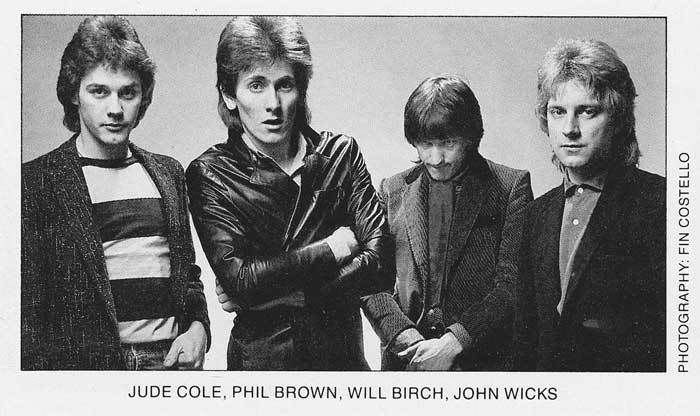 Singer/guitarist/songwriter John Wicks formed the seminal British power pop band The Records with drummer/lyricist Will Birch in 1978. Their career took off fast and by '79 The Records were flirting with fame and fortune as their excellent self-titled debut album and their glorious power pop single "Starry Eyes" both bubbled-under the Billboard Top 40, but due to misfortune and a misstep or two their career took a downward trajectory and after one more great album
Crashes
(1980) and one good album
Music on Both Sides
(1982) The Records called it quits.
Fast-forward to 2008, John Wicks has a new album out and a new band called John Wicks and The Records and they'll be playing this Friday at The East End in Portland and Saturday at The Comet Tavern in Seattle. John was gracious enough to conduct this interview with me via e-mail. If you love power pop but find the subject of weather boring skip past my first question – I think you'll find the rest of the interview quite interesting.
Seattle Powerpop Blog:
Hi John. It's a typical spring day here in Seattle, cold, gray and wet. What's the weather like in L.A. today? How long have you been living there?
John Wicks:
Sorry to hear about your gloomy weather. It sure sounds a lot like England. It's often said that here in L.A. we don't have "weather." However, that's not totally true. I've lived here since February of 2001 and in that period of time I've endured triple digit heat during the summer months, contrasted with extremely windy and rainy conditions during the winter months. (And yes! In spite of what you may have heard to the contrary, we DO have seasons here!) Anyway, today (April 6th) was a little breezy, and cloudy with sunny spells, although the temperature was a bit below average, but I still managed my power-walk through Griffith Park. It was very pleasant, so I can't complain.
Weather update! By way of contrast, today is April 12th and we are experiencing a hot sunny day with temperatures in the high 90s! I've already been in the pool, that's how hot it is. Tomorrow promises to be similar. Simply perfect!
SPB:
Where are you from originally?
JW:
I was born and raised in Reading, (pronounced Redding) in Berkshire, England, which is a town located approximately 40 miles west of London. Around the age of 18, I left home to join my first "real" band in London. That lasted about a year, and then I moved to a place called Southend-on-Sea to join a cover band. Southend is located about 40 miles east of London, and little did I know at the time that this would eventually lead me to "The Records."
SPB:
Were you a Mod or a Rocker or a Mocker, (as Ringo once claimed to be) or none of the above?
JW:
Definitely not a "Mocker!" More of a little "Focker" really! Seriously, it's fair to say that I considered myself a "Rocker," since as a young impressionable teenager - much to my parents horror - I used to hang out at night in a local park with a bunch of biker dudes and chicks, affectionately known in the U.K. as "greasers." Quite a few of these characters, and believe me they WERE characters, had already served time in "Her Majesty's Service," otherwise known as jail. I witnessed some extremely brutal fights during this period of time. It's true to say that Reading was quite a violent place. For example, downtown during the late evening hours, after the pubs emptied out, it wasn't unusual to see people get knocked through plate glass windows, and seriously injured, or on occasions even worse - beaten to death - whilst people were minding their own business waiting for their buses to come and whisk them home to safety. In fact even during the daytime, every so often, train-loads of "Mods" would come down from a town called Slough, and pitched battles would erupt in the street outside Reading Station as the local greasers defended their turf. There were so many of them, that the police who weren't armed at that time, were vastly outnumbered and pretty much had to let the riots run their course. Thankfully I managed to steer clear of all that nonsense. I mean these guys' took their perceived status waaay too seriously! They clearly considered themselves "the-real-deal" whatever that meant. In any event, it was a much too scary prospect for me. So I guess when all is said and done, you could say that I was more of a "pretend" Rocker really. Not that I was a "real" bonafide hippie either you understand! LOL!!
SPB:
A lot of American musicians around your age, or maybe just a bit older, say that watching The Beatles on
The Ed Sullivan Show
completely changed their lives and converted them to Rock 'n' Roll. Did you have an equivalent experience growing up in England?
JW:
I guess so. Obviously The Beatles come to mind, and of course The Rolling Stones. Like so many of my musical peers, it's true to say that these artists, together with the likes of The Who, The Kinks, The Move, etc., had a dramatic effect on our collective lives, not to mention redirecting our future paths in life. I think it's fair to say that without such a dramatic influence, many of us would more than likely be leading very different lives. Had this musical revolution not come to pass for instance, I might well have fallen into the family furniture and carpet business - "J. R. Wicks & Son Ltd." Having said that, I don't mean to suggest that it would have been a bad thing, probably quite the opposite in fact. (Kind of like that
Spinal Tap
thing: "Yes madam, may I suggest that this luxurious, polka dot, three piece suite, matches your carpet just perfectly and would look extremely elegant in your living room, if you don't mind me saying so!") Anyway, when my father and mother retired, my cousin Francis took the reins and has been very successful. Can you imagine? I would have been cutting out of work early, anxiously trying to get out at night and play gigs, only to be late for work the next day! I'm pretty certain Frank would have fired my ass. LOL! Seriously, I mean, I had always liked music, but once The Beatles exploded on the scene, my fate was sealed - I literally fell in LOVE with music! Plus, the truth of the matter is - when it comes to customer service, I'm like John Cleese's Basil Fawlty in
Fawlty Towers
, and besides I sucked at sewing sections of carpets together. LOL!!
SPB:
Your former songwriting partner/bandmate Will Birch has written that The Beatles'
Revolver
was a huge influence on The Records. What were some of your other favorite records?
JW:
Oh Yeah! (Cheap plug!) Seriously,
Revolver
was such a cool album, as were most of the other Beatles L.P.s too of course. Although I never cared much for
Yellow Submarine
, but
Magical Mystery Tour
was another one of my faves, along with
Rubber Soul
,
Help
,
Sgt. Pepper's Lonely Hearts Club Band
,
Abbey Road
, etc...Songwriting genius to be sure. I bought pretty much everything The Rolling Stones put out, Brian Jones was my fave Stone btw. It's too bad about his sad and tragic end. ("Rumour Sets The Woods Alight" was written about Brian). Anyway, I recall buying The Stones'
Their Satanic Majesty's Request
and marveling at the (then) 3D hologram adorning the front cover. "Jumping Jack Flash", "Gimme Shelter"...
So many great songs. Not to forget The Beach Boys. "God Only Knows" for example, is another example of songwriting genius, imho. The Small Faces'
Ogden's Nut Gone Flake
was always on my Dansette record player, singer Steve Marriott being another hero of mine. I also embraced the psychedelic period, Pink Floyd etc. Syd Barrett's "Arnold Layne" and "See Emily Play" just blew me away. Then we had the likes of Led Zeppelin, Cream, Traffic, Peter Green's Fleetwood Mac, etc., etc. There really was just so much incredible music around at that time.
SPB:
I think that Birch/Wicks is right up there with Difford/Tilbrook at the pinnacle of great New Wave Era songwriting teams. Classics such as "Starry Eyes", "All Messed Up And Ready To Go", "Teenarama", "Girl In Golden Disc", "I Don't Remember Your Name", all had wry witty lyrics set to gorgeous melodies and completely infectious hooks. Can you describe how you two worked together?
JW:
Firstly, thank you so much for the compliment. Both Will and myself are huge admirers of Chris Difford & Glenn Tilbrook. As you say, they were a great songwriting team. And thanks for the kind comments about our songs. More often than not I don't get too excited at the prospect of co-writing, but I have to admit that working with Will proved to be a very enjoyable and rewarding experience. As far as how we worked together, Will was the lyricist and I the tunesmith, for want of a better description. At the very beginning of our partnership, he and I would get together, listen to music and play around with ideas. Usually he would have the bones of a lyric, to which I would try to write a melody, and sometimes I would already have a melody and he would then endeavor to come up with a lyric. For the most part we managed to make the process work efficiently and successfully either way. Prior to our partnership, I had always written the music as well as the lyrics, but I found that - in most cases anyway - coming up with good lyrics was very time-consuming, usually taking considerably longer than composing melodies. Consequently I'd have a backlog of tunes, so I welcomed the opportunity to collaborate with Will. Later on, as our relationship evolved, we would very often work separately, he handing me lyrics, and me giving him a cassette recording of a melody to work on.
SPB:
You and Will wrote the song "Pin a Medal on Mary" for Rachel Sweet, (it was one of the highlights of her album
Fool Around
) and then The Records were her backing band on Stiff Records "Be Stiff Tour" in '78. Was that a lot of fun? Wasn't Wreckless Eric also on that tour? He just played The Comet Tavern a few months ago. He really puts on a great show.
JW:
Yes. In fact unless I'm mistaken, that was the first song that Will and I wrote together. I don't recall us knowing about Rachel at the time, but at some point Stiff Records honcho Dave Robinson heard the song and had Rachel record it. When the prospect of the Stiff Tour came up, Rachel needed a backing band and Dave called to ask us if we'd be interested. Somewhat naively, concerned that should we accept, there was the very real danger that we might be perceived as - "just someone's backing band" - I suggested Will call Dave back, informing him that we would agree to back Rachel if we could also have our own slot on the tour. To our total amazement, Dave said, "Sure!" And yes, it was a whole lot of fun and some! Indeed Wreckless Eric was also on that tour, as was Lene Lovich, Jona Lewie and Mickey Jupp plus his band, members of The Sinceros if my memory serves me correctly. And I did hear that Eric had played at The Comet Tavern recently. Hope he didn't trash the place! Just kidding. Speaking of Eric, Will and I actually wrote "All Messed Up And Ready To Go" - specifically for him. We dashed it off on board the Stiff train that transported us around the U.K. during that tour. Anyway, he didn't record it, so we did!
SPB:
The Records signed with Virgin and recorded their self-titled debut album in '79 with producer Mutt Lange and engineer Tim Friese-Greene. That album really sounds great and the song arrangements are incredible. How did you guys do it? Did you record demos first? Did you rehearse until you had the arrangements perfected, and then lay down the basic tracks live as a band and then overdub on top of that, or did you lay down a scratch track and then build the tracks up one instrument at a time?
JW:
Well, whenever I compose a melody, it also includes all the chords, riffs, etc., and I almost always have an arrangement in mind, so the song is pretty much fully formed right from the get-go. Mutt came in and routined 5 songs with us, whilst Tim took care of the rest. We had in fact recorded demos of most of the songs, Mutt and Tim building on what was already there, improving and refining the arrangements, at the same time making sure they preserved the essence of the songs in the process. We laid down the basic tracks in the studio live as a band, and then overdubbed parts as required. My musical background growing up, and my many years of experience singing lead vocals and harmonies in cover bands, enabled me to arrange and sing the bulk of the lead vocals and harmonies in the band. Consequently, in the interests of studio time constraints, I sang most everything on that first album, except "Girls That Don't Exist" (Phil, Mutt & I) "Insomnia" (Phil & Huw) "The Phone" (Huw). Getting back to Mutt and Tim. In addition to their both being inspired producers and arrangers, they are extremely talented musicians and writers. And boy Mutt's a great singer too! Indeed it was an honor and a great pleasure to work with both of them.
SPB:
I used to watch
The Midnight Special
(rock concert TV show) regularly when I was in High School, even though it was mostly awful, because occasionally they would have a really exciting performance, and I have to say that the best episode ever was the night The Cars hosted and The Records appeared as special guests. Did you enjoy that experience? That was probably when The Records were at the height of their fame, was it not?
JW:
Thanks! I just wish the "powers-that-be" would release that
Midnight Special
episode in its entirety, if they haven't done so already. If not, clips can be viewed courtesy of YouTube folks. And no, I didn't post them! But yes, it really was an extremely enjoyable and unforgettable experience, the guys' in The Cars were all just so wonderful to us. (Speaking of whom, I ran into Elliot Easton at a club here in L.A. a couple of weeks back). Anyway, we played live on that show too btw. Absolutely NO lip synching, and NO wardrobe malfunctions! And I guess it was around the height of our - "15 minutes" - since the album was inching it's way up towards the top 40 on the Billboard chart, and the single, 'Starry Eyes' was following close behind. T.V., Radio, Publicity, Planes, Limos, Girls, etc., etc... Ah... Heady days!!
SPB:
Your second record
Crashes
is debatably even better then the first, great songs from start to finish. It was released in 1980 and although I was a big fan of The Records, I didn't even realize
Crashes
was out until I found it in a cut out bin about a year later. In '79 "Starry Eyes" was getting a lot of airplay,
The Records
got a rave review in Rolling Stone, you were on
The Midnight Special
and a year later it was almost as if you'd completely disappeared. What happened?
JW:
Oy vey! Where do I begin??? Well, for starters Mutt had apparently expressed his desire to produce
Crashes
. In hindsight it is my belief and opinion that we should have continued our professional relationship with him. Anyway, for whatever reasons, foolishly we didn't. With Huw Gower no longer in the band, and Craig Leon at the helm producing, we hired ex-Kursaal Flyers lead guitarist Barry Martin to lay down the lead guitar tracks. The backing tracks were recorded at George Martin's Air Studios in Oxford Street, West London. After a week or so of laying down the basic rhythm tracks, we returned to the studio after a weekend break, and went into the playback suite to take a listen to our efforts. As the 2 inch tape started rolling, (Yes! This was good old analog folks!) I recall being absolutely horrified by the muffled sound that I heard coming through the speakers. It sounded like someone had literally covered them with blankets, the sound being an ill-defined, muddy mess, with practically no high end whatsoever. Unfortunately, for us as a band anyway - prior to the commencement of our initial recording sessions - it transpired that apparently no one had taken it upon themselves to perform the extremely important and necessary, if unsexy task, of aligning the tape heads! Presumably, the house engineer thought that Craig had taken care of it and, presumably, Craig thought that the house engineer had done so... Oops! Knowing how disastrous, and potentially damaging to our career this was, I made the suggestion that we should scrap everything and start again from scratch. As you can imagine, for economic and practical considerations, my suggestion was shot down in flames. A false economy if ever there was one, and my prediction at the time that it would prove to be the beginning of the end of the band, was sadly right on the money. By way of irony, a shit-load of moolah was expended during the mixing stage of the recording process, in a valiant though ultimately vain attempt at salvaging the recording! When it comes to frequencies, you can't put back what's isn't there. Indeed the decision not to re-record, proved to be a very unwise and seriously expensive mistake at best. At worst - arguably - it may well have cost us our career... At the end of the day, whilst it's certainly true that the songs were great, the record still sounded substandard sonically, in spite of all the well-intentioned efforts to salvage it. One positive aspect of things though was the arrival of our newest member. Hearing that we were looking for a singer capable of handling the high harmonies, Craig had introduced us to Jude Cole, an extremely talented 19-year-old singer-songwriter and guitarist hailing from Moline, Illinois, by way of Los Angeles. Jude was flown over from L.A. to London, I gave him a high harmony to sing on "Rumour Sets The Woods Alight" and he nailed it right off the bat! "BINGO!!" He was in! We embarked on our second tour of the U.S. and Canada, and the band had never sounded better live. Alas, Virgin at this time were in deep financial trouble, plus their licensing deal through Atlantic Records was coming to an end, and even though the folks at Atlantic loved our band, unfortunately there wasn't enough money left in Virgin's piggy-bank to maintain the necessary promotional push. Couple these problems with our substandard sounding record, and it all became a recipe for disaster... Hence little or no "T.V., Radio, Publicity, no more Planes and Limos," which just left us with the "Girls." LOL! I think the record "bubbled under" at #210 on the Billboard chart before disappearing into the ether. That was when the "Girls" left us... DAMN!!
(Part 2 tomorrow)