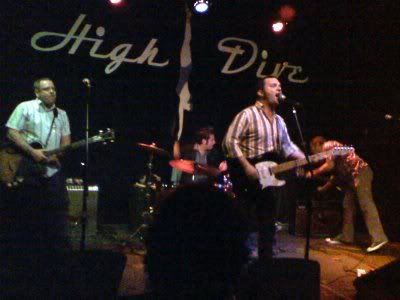 Photo by
Gwon Chang
A great bar at the center of the universe (Fremont) on a warm Friday night, outstanding performances by three of SPB's fav bands - it was the perfect way to celebrate the arrival of summer.

The Lund Brothers remind me of Cheap Trick, Material Issue, Redd Kross – they play classic power pop with plenty of power, tight harmonies and catchy melodies. According to their bio, brothers Chris and Sean Lund have a rapport similar to that of Ray and Dave Davies or Liam and Noel Gallagher. There wasn't any sign of sibling animosity at the High Dive last Friday night but there was plenty of evidence that musical talent runs in the Lund family.

Chris plays guitar, masterfully combining power chords and rhythm riffs with shredding leads. Sean's a propulsive, hard-hitting drummer. They both sing, trading off lead vocals and singing close harmonies together. Bassist Gwon Chang holds down the low end with plenty of skill and energy and adds backing vocals and a third harmony whenever one is required. This is one power-trio with the skills and know-how to really fill the sonic spectrum. They played a great set of original, well-crafted songs, ending with an impressive cover of Badfinger's "No Matter What."

As the rest of the band looked on, lead singer Greg Collinsworth made a dedication to a friend and sang a rough but poignant cover of "Days" the lovely Kinks' classic. Scott 5 (Doll Test) jumped up on stage after the first verse to lend harmony vocals and moral support. After that very moving opening Greg announced that it was time to rock as The Small Change launched into an inspired set of
soulful,
high energy, mod, power pop – think Elvis Costello & The Attractions mixing it up with The Small Faces, Fender guitars and Hammond organ the weapons of choice.

After a bunch of great Collinsworth originals, Kurt Bloch (Thee Sgt. Major III) was invited on stage to join the band for an incredible cover of one of the best power pop songs of all time, The Who's "The Kids Are Alright." As soon as they'd finished Bloch started strumming the opening chords of "The Seeker" and the band quickly fell in for another rousing Who cover. To top it all off Greg handed his guitar to Scott 5 and The Small Change proceeded to tear up The Faces' "Stay With Me," Collinsworth singing his heart out while 5 and lead guitarist Ryan Maxwell traded off fiery guitar licks.

The Small Change is a tough act to follow but The Tripwires where more than up to the challenge. The Tripwires have such a unique sound that it's hard to compare them to anyone else. If pressed I'd say they mix twangy roots rock and power pop with a quirky but subtle sense of humor similar to Rockpile and NRBQ. John Ramberg is the lead singer, guitarist and songwriter. He's an exceptional talent as are his band mates Jim Sangster on bass, Johnny Sangster on guitar and backing vocals and Mark Pickerel on drums. I've seen them perform several times now and they never cease to amaze me.

While always sounding idiosyncratic The Tripwires cover a lot of stylistic territory from the infectious Merseybeat sound of "Zigzag" to the roots rock choogle of "Monument," to the swaying, anthemic ballad "Big Electric Light." They've also got a ragtime, a twist and a new song with a pronounced disco feel – did I mention this is a great dance band? I'd say at least half the audience was dancing their entire set, Ramberg encouraging us to divide into Jets and Sharks, to do the twist, to do the Grizzly Bear and finally to take a Beatle bow.

While Ramberg's songs are uniformly great The Tripwires also have a knack for finding obscure but terrific covers and making them their own. Last Friday they played Graham Parker's (via Dave Edmunds) "Crawling from the Wreckage," Los Shakers' "Break It All" (Side note: If you don't already own Rhino's Nuggets II Boxed Set you should seriously think about buying it.), "She's A Mod" by Ray Columbus and The Invaders and The Hi-Risers' "One Note Joe."

Great music, great fun and summer is here at last Seattle.