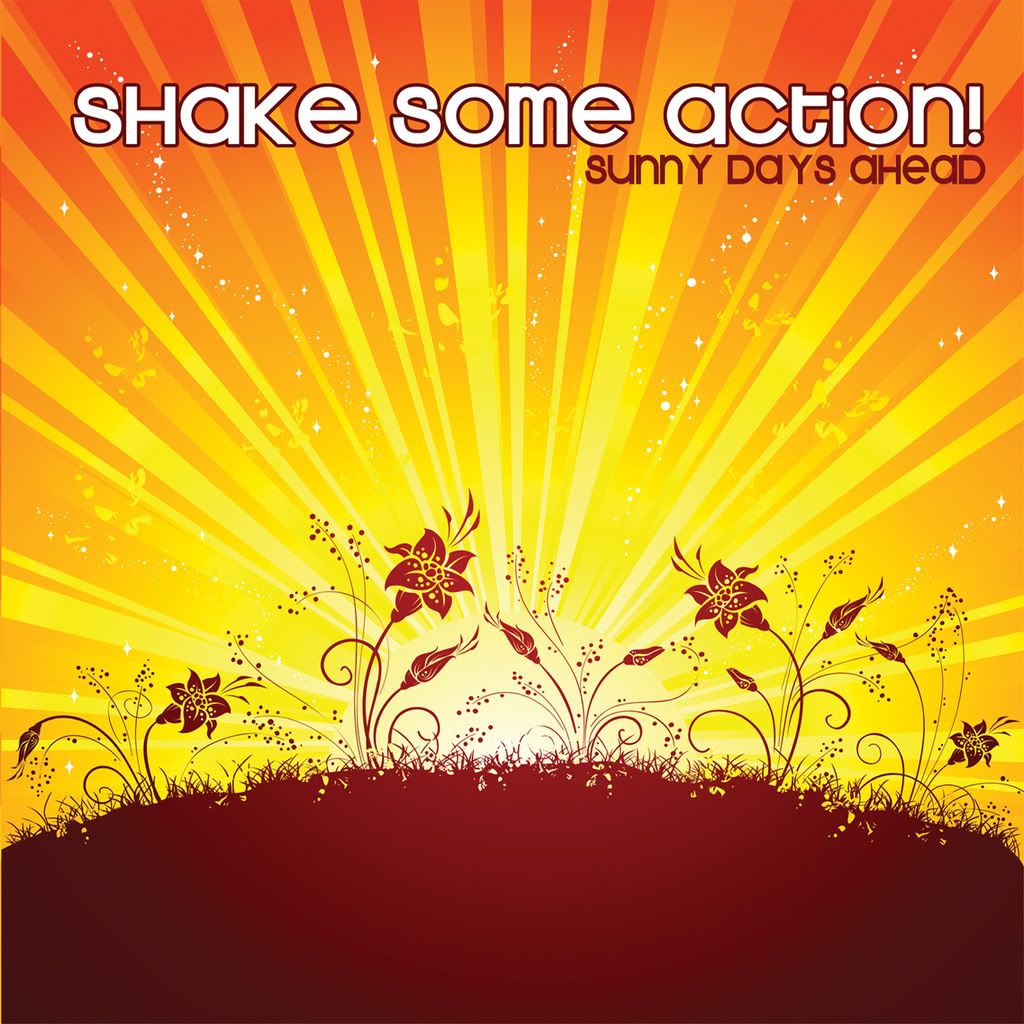 While Shake Some Action's self-titled debut was essentially a James Hall solo record – written, performed and recorded by the talented frontman at his home studio – their terrific new album
Sunny Days Ahead
was a total group effort that sounds more direct and immediate than its predecessor and nicely captures the energy and excitement that Shake Some Action generate live. The thirteen concise, punchy songs on
Sunny Days Ahead
rush by fairly breathlessly from one great track to the next, each showcasing the considerable talents and pop-craft of this fine Seattle band.
With an insistent guitar riff and driving beat opening track "Get It Together" is (ironically considering the album's title) a prophetic admonition to "Look out for stormy weather/Come on and get it together," and it sets the tone for what follows: an album of infectious, melodic power pop imbued with the snarl and indignation of punk, taking on fakes, haters, bullies and cheats.
The album's basic rhythm tracks were recorded in a single weekend, many in just one take and there's an air of spontaneity and looseness here but the songs are all expertly constructed and practically overflowing with ideas. "Looking For Someone" for instance, has a catchy intro riff, verses driven by syncopated bass and rhythm guitar parts that recall the Beatles' "Taxman," crunchy power chords that lead into the chorus where organ and wordless background vocals create gorgeous, shimmering overtones and harmony vocals send a chill of pleasure down your spine - all this before they even reach the bridge.
"You Don't Care" is a scathing rebuke of rampant greed and consumerism propelled by another unstoppable guitar riff (this album is chock-full of them), slashing rhythm guitar and hard-boiling bass and drums. James Hall's rich, sonorous voice lends an imposing resonance to barbed lines like "Super-size/White-lies/Bloodshot eyes/And nothing satisfies you." Backing vocals punctuate each verse with the refrain: "You don't care you need it," and when the harmony vocals kick in at the chorus: "Too much is not enough," the song absolutely soars.
With its chiming guitar arpeggios and tambourine "Hurry Up" has that jangle-pop sound that hearkens back to the Byrds and early R.E.M. Other highlights include the exuberant pop punk of "Half Past Three," "Unusual Girl" with great Farfisa organ and "la la la la" vocal hooks and "Who Do You Love?" the supercharged rocker that brings the album to a rousing finish. All the songs are great though and the CD is only 37 minutes long – you'll want to set your CD/MP3 player on repeat and listen over and over. That's what I've been doing for the last few weeks and I've decided that
Sunny Days Ahead
is a strong contender for SPB album of the year.