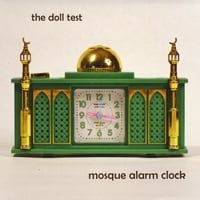 Here's another great release from Unsmashable Records, another excellent Johnny Sangster production and another contender for SPB's album of the year.
Unsmashable Records describes itself as "Northwest powerpop rock music from the seasoned over-30 crowd" and while the kids might enjoy it too,
Mosque Alarm Clock
is clearly an album for people who've lived a little: wry, poetic observations from someone who's been around the block a few times.
The Doll Test is veteran singer/songwriter/guitarist Scott Five (Sutherland) and fellow ex-Model Rockets Boyd Remillard on bass and Graham Black on drums and Riffbrokers frontman Nick Millward on guitar and organ. They're a formidable band and with
Mosque Alarm Clock
they've delivered an exceptional record. Five calls it "a concept record…about what happens between when the alarm goes off and when the wine runs out."
I hear the classic '60s powerpop influences: The Beatles, The Byrds and The Who, but The Doll Test's music never sounds derivative or retro, it's timeless and relevant with plenty of great melodies, hooks and harmonies, skillfully arranged and played.
Lyrics touch on politics both personal ("The Last Rung") and national ("The Decider"), strategies - including denial and self-medication - for dealing with the pain and monotony of life ("Everything's Fine"), bittersweet relationships ("Fall Away," "Every Night You Break My Heart") and life-affirming love ("The Bell, The Map, The Stars").
With its chiming guitars, gorgeous melody and succinct yet killer Roger McGuinn does John Coltrane guitar solo, "The Bell, The Map, The Stars" is possibly my favorite song on the album, but with a dozen songs of such high caliber it's nearly impossible to choose one standout track.
"My Future Self" is one of those great originals that sounds like a cover - a song that you heard on the radio once when you were young, immediately fell in love with but never heard again. I can't put my finger on who it reminds me of exactly, The Byrds singing Dylan maybe (a coworker suggested Tom Petty). It's got ringing Rickenbackers, wheezy organ, half-spoken, half-sung repeated-line verses, a swelling, soaring chorus and lyrics "I saw my future self handicapping an Emerald Downs racing form" that might have made Charles Bukowski proud.
"Ballad of Your Blue-Eyed Boy" sounds like it could be a great, lost Beatles track from the
Let It Be
sessions – Phil Spector-like production, a Harrison-esque slide guitar solo, a terrific, expressive Lennon-esque vocal by Five and smart, sad, funny lyrics: "They handed you a suitcase and they shot the starting gun/now what's the matter cupcake ain't you havin' any fun?"
I hear echoes of Buffalo Springfield in the jingle-jangle, harmony-drenched "Shoot the Tambourine Man" while "Amphetamine" reminds me of prime Neil Young & Crazy Horse with its drug related lyrics and cathartic guitar maelstrom via Five and guest guitarist Ryan Maxwell of Unsmashable label-mates Young Sportsmen.
The stacked harmonies, layered acoustic and electric guitars, woodblock and background oohs and ahhs in "One Lie Too Many" are reminiscent of The Who circa '68. This song starts with the great line, "First a thorn, then another/till the rosebush that grows from your side has made you fall." It's a powerful, vivid image, like something from a Frida Kahlo painting.
Scott Five has really come into his own as a songwriter and the excellent playing by the band and Johnny Sangster's skillful, sympathetic production provide the perfect showcase for the twelve perfectly sequenced gems that make up this outstanding album.
www.myspace.com/thedolltest
http://www.unsmashablerecords.com/