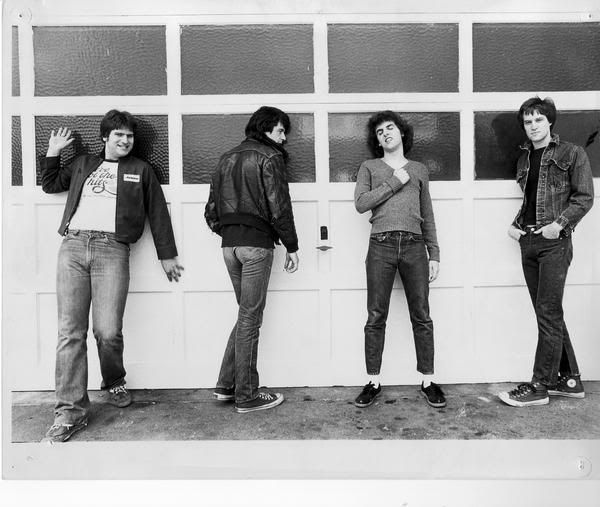 Jim Basnight's got quite a rock & roll resume – his band Meyce played one of the first punk shows in Seattle in 1976 and in 1977 they opened for The Ramones. His next band The Moberlys recorded a great self-titled album that made Trouser Press's "Underground Top 10" list in 1980. Basnight has been making consistently great music ever since, both as a solo artist and with Jim Basnight and The Moberlys, The Pins, The Rockinghams, The Jim Basnight Thing and currently with The Jim Basnight Band. His records have been sited in various Best of Powerpop lists over the years including John Borack's "The 200 Greatest Power Pop Albums".


Seattle Powerpop Blog:
Are you having a good summer so far? Over the years you've written some great songs celebrating summer like "Live in the Sun" and "Summertime Again" so I assume you enjoy it quite a bit.
Jim Basnight:
I'm having a great summer so far. I'm getting ready to put out a new CD on the NYC based Disclosed label. It's a career retrospective with two new tracks that I recorded with my current band, the Jim Basnight Band. It's titled "We Rocked and Rolled: The First 25 Years with Jim Basnight, Moberlys and Beyond", by Jim Basnight. It has selections from all 6 of my unique CD's,
Sexteen
by the Moberlys,
Seattle-NY-LA
by Jim Basnight and the Moberlys,
Pop Top
,
The Jim Basnight Thing
and
Recovery Room
by Jim Basnight and
Makin' Bacon
by the Rockinghams. The reason I call those "unique CD's" is because tracks from them have been compiled in other releases like
Sexteen
a vinyl LP released in 1985 on Lolita Records in France,
The Moberlys
vinyl LP released in 1980 on the Seattle based Safety First Label,
Jim Basnight and the Moberlys Return
CD on the Japanese Wizzard-in-Vinyl label in 2006 and the
Pop Pleasure
LP by Jim Basnight and the Moberlys on the Italian Rave Up label.
My consistent love for summer songs and sunny days is based on my inherent spirit and optimism and hope and belief in the goodness of life and people. I've been disappointed along the way, but my relentless optimism has kept me upright. I basically was blessed with parents that showed me a lot of love and shared so much with me to thank for that. I love summer songs as well, as they often bring out some of the more positive and happy moments in pop music. That's not to say that I only love that kind of music. I guess I may be identified by some for that style, because some of my best work has been when I was singing about those kinds of experiences. I feel that there are many other top notch songs of mine and those that I co-wrote that are not in that vein and I guess only time will tell as to whether others look back at this body of work and feel the same.
SPB:
I checked your concert calendar and it looks like you're playing 4 to 5 shows a week for the next couple of months.
JB:
I've been performing between 175 and 225 shows a year with the Jim Basnight Band or myself solo or in duo line-ups for about 10 years now. Mostly in the NW (WA, OR, ID, MT and some parts of UT, WY and CA), we've carved out a niche by playing literally everywhere and every type of gig, from coffee houses, concerts and colleges to casinos, clubs, fairs, festivals and private parties. We've developed a very good show, if I do say so myself, that pulls from all kinds of influences. I feel that we can play the power-pop, glam, punk, garage, new wave and roots rock that I'm known for very well, plus we have successfully brought in influences like soul, funk, old country, blues, jazzy-pop and classic rock. Our show right now is playing a lot on Washington's San Juan Island, but after summer we will be doing more traveling around the NW and probably back to NYC around the release of the CD, as well as to parts on the SW. I'd love to take this band overseas, as I feel strongly that our show would be very well received in Europe and Japan.
SPB:
Who's in The Jim Basnight Band and what's your set-list like?
JB:
The band consists of Mikel Rollins on bass, guitar, flute, Sax and vocals. Mikel and I have been playing since the beginning of this band in 1996, right as the Rockinghams were coming to a close. He is a really strong musician who has had a ton of jazz training and experience as a pro player. He also has a quick sense of humor on stage and a keen sense of style. He says that I have been his teacher over the years as a guitarist and front man and I've picked up a lot from him as well. The drummer is Brad "Mr. D" Dolsen. I met him on San Juan Island. He's an accomplshed drummer and a really high energy showman. He does a lot of things image wise that make it easier for me to do crazy things and not stand out or appear random and out on a limb. He and Mikel both do that. Brad went down to LA for a while to work as a session guy and also worked in the fashion and art gallery world. He moved back to Seattle to do the band and so he could play drums full time. The 4th member is Mike Rain, who plays bass and guitar. He is an outstanding harmony vocalist and has done very well with creating his own vocal arrangements on my tunes. Mike has a good voice and plays a very nice complimentary guitar style to mine and to Mikel's bass playing. He also plays good solid bass, which allows Mikel to play sax and flute as well as guitar. We do songs from all 6 of the CD's as well as some new songs. We also do a number of our own versions of other people's numbers. Some of the better tunes that we do regularly are Telegram Sam, Ballrooms of Mars and The Slider (T-Rex), The Passenger (Iggy), Too Much Junkie Business (The Heartbreakers), What You See is What You Get (The Dramatics), Lovely Day (Bill Withers), All The Young Dudes (Mott the Hoople) and Just to Satisfy You (Waylon Jennings). I also play a number of songs in my solo acoustic show like "Tonight" by the Raspberries, "1-2-3" by Len Barry, Hank Williams "I'm So Lonesome I Could Cry" in the Al Green mode and "Venus De Milo" by Television.
SPB:
When did you first fall in love with music? What were some of your favorite records when you were growing up?
JB:
I first fell in love with music when I got a transistor radio in about 1966. My first records were what we had around the house, which was mostly Jazz and adult pop of the day, but my folks got a few 45's that we had around like "Bobbie's Girl" by Marcie Blaine, "The Watusi" by the Orlons and "See You in September" by the Happenings. My dad finally broke down and bought me
Revolver
by the Beatles when it came out. He also felt compelled to broaden my horizons a bit in the pop music genre by giving me the Mothers
Absolutely Free
and the
Fugs
on ESP. He also played a lot Lenny Bruce around the house. I really liked the music on the radio, but it wasn't until I started going to the store and buying my own records that I found the stuff that really expanded my appreciation and realization that this was what I wanted to do with my life. My first records like that were the Kinks
Greatest Hits
,
Kinkdom
, the Stones
High Tides and Green Grass
,
Flowers
,
The Doors
, Jimi Hendrix
Are You Experienced
, Jefferson Airplane
Surrealistic Pillow
, The Who
Sell Out
and all of the American radio pop of the day like The Buckinghams, Smokey Robinson, Stevie Wonder, The Grassroots, The Raiders, The Rascals, The Beach Boys and a ton more. From there I got into the glam movement of the early 70's. I wasn't much of a fan of the Woodstock scene and the early arena rock, but when Bowie, T-Rex, Alice Cooper, Lou Reed, NY Dolls, MC5, Roxy Music, Slade, Mott, Flamin' Groovies and Iggy Pop came out in my early high school years I was hooked. I also always loved the early power-pop, specifically Badfinger and the Raspberries, as well as all of the bands around in the 70's that were influenced by that style. Soul music always appealed to me as well and I was hooked on albums like
Superfly
by Curtis Mayfield, the Al Green and Isaac Hayes stuff, The Temptations, Sly Stone, The Ohio Players and Marvin Gaye. I wasn't a huge fan of the big top arena rock acts of the day, but now I appreciate a lot of the big names of the 70's more than I did back then. It was not a huge jump to spin right into the punk thing, as it started to appear in the mid-70's.
SPB:
What impact did punk have on you? I think I hear the influence of Richard Hell and the Voidoids, The Heartbreakers and The Modern Lovers in your early stuff along with The Raspberries and maybe The Rubinoos?
JB:
I feel that I was influenced very much by both punk and power-pop. Both styles have irrepressible energy, melody and so many fantastic artists and songs. I'm really drawn to good songs. When I went to NYC in the spring of 1977, it was a life changing experience. I would also mention bands like The DMZ, Wayne County, The Tuff Darts, The Dead Boys, Suicide, Alex Chilton, The Fleshtones, The Nerves, Patti Smith, Blondie, The Real Kids, Generation X, Tom Petty, The Heats, The Cowboys and Vancouver B.C.'s Modernettes as big influences from that era. I was writing songs well before I heard most of these bands, but they all shaped my musical development as a songwriter. There's also no way to discount the value The Ramones to my upbringing.
SPB:
Your band Meyce opened for The Ramones here in Seattle in 1977 when you were what, nineteen? How did you land that gig and what was it like?
JB:
The show was promoted by a friend of mine from high school, Robert Bennett, under the banner of a local rock fanzine that the drummer in the Meyce published and that I contributed to,
Chatterbox
(named for the Dolls tune). It was at the Olympic Hotel, which was in the same building that is now the Four Seasons Hotel in Seattle. It was a classy room for Seattle at that time and a good place to kick off the punk movement in town in style. The Meyce did a very good show in my opinion and the Ramones band and crew said some very encouraging things to us. The Ramones were just incredible. They did most of the tunes from their first two albums. They stayed in touch with all of my crew in Seattle over the next few years and Johnny and Dee Dee wore
Chatterbox
T-Shirts all over the place. Johnny wore it in the movie
Rock and Roll High School
. I have some 8MM film footage of part of the Meyce (pronounced Mice) performance that night that I will be including in a DVD that I'm compiling right now.
SPB:
I love The Moberlys' album
Sexteen
. I think everyone who loves punk or power pop should own a copy. Tell me about that CD. Is it the whole first Moberlys album plus some singles and some live tracks? What do you remember about making that album?
JB:
It was done in a few different sessions. First there was the single that I released in January 1978, "Live In the Sun" backed with "She Got Fucked", which made the album. That was prior to the formation of the Moberlys. The second session was at a "demo" studio owned by Seattle guitarist Mick Flynn. That line-up which included Jeff Cerar (who later helped form the Cowboys) recorded 5 songs and "Leave the Past Behind", "I Trust You" and "When the Night Comes" are on "Sexteen". The third session was backed by Brian Fox and self produced by the Moberlys and engineer Dave Perry. From that four song session "Don't Fall into Darkness", "Blow Your Life Away" and "I Want You" are included. We then went into Triangle Studios in Seattle and did a live broadcast for local commercial FM KZOK. From that "Country Fair", "Papa Loves Mama", "Love/Hate", "You Don't Give Me Love", "I'm In Fire" and "Come and Gone" are included. After that Ned Neltner, who led a very successful local club band in the NW, Junior Cadillac (which also included original Wailer Buck Ormsby) took us into Paul Revere and Neil Rush's (Marilee's husband) studio. From that session came "Sexteen", "Live In the Sun", "Last Night", "Lonesome Crying Sigh", "Give Me Peace" and "You Know I Know". Steve Grindle on bass and Bill Walters on drums were there from the beginning of the band. Jeff was replaced by Steve Pearson, who played one gig with us. Don Short, Pearson's band mate in The Heats was in the band for a few rehearsals, as was Ben Fisher, who later co-wrote "Summertime Again", "Hello Mary Jane" and "Middle of the Night". Ben passed from cancer a few years ago and was one of my best friends. He and I wrote a number of other songs and had real chemistry together. Finally we hired Ernie Sapiro, who later replaced Jeff in The Cowboys. Ernie played on all of previously mentioned sessions besides the single and the Mick Flynn tapes. After the session with Neltner, due to a few rejection notices from major labels, Bill Walters left the band, soon to be followed by Ernie. Steve and I tried to keep going, but were unsuccessful in finding the right replacements. Bill Rieflin from The Blackouts and now REM helped us record a couple of tracks. Those were "We'll Always Be in Love" and "Love is Beautiful", which are both on "Sexteen". After that session Steve joined a Rockabilly band and I joined a club band that was playing a lot of the same clubs as The Heats and The Cowboys called The Pins. After working with them for about 6 months I decided to move to NYC. Pearson later joined them after The Heats broke up and they changed their name to The Rangehoods. In NYC I put together a band and called it The Moberlys, to follow up on the LP and it's underground success and we recorded a number of tracks some of which that were later included on the "Seattle-NY-LA" CD, but one of them, "I Return" was a standard of the first band, so I included it there.
Part 2